Mobile UVC With Casters, 1920 Watts with 15 UVC Emitters (Commercial Grade) 6-10 Week Lead Time
$25,950.00
---
Description:
The M20 / M15 Mobile UVC disinfection device is specifically designed for maximum effectiveness and ease of use to meet your infection control needs.
LEASE OPTIONS AVAILABLE!!  CALL FOR PRICING!!
The M20 /M15 have been specifically designed for the institutional environment.
Made of stainless steel and impact resistant thermal plastic, protective cage and Teflon encapsulated UV emitters for the physically demanding health care industry. Designed to work with multiple electrical requirements. Each device also features multilingual labeling which allow for both domestic and international implementation.
Like all the UVC Cleaning Systems devices, the M20 and M15 feature an integrated wireless link for up to 8 units. The link feature allows UVC Cleaning Systems customers to operate devices simultaneously to deliver a safe, fast, and effective treatment in large areas and diverse environments.
Multiple dual motion sensing technology creates a safe operating environment by preventing accidental exposure to UVC radiation. UVC Cleaning Systems has engineered equipment that meets safety certifications for North America, Europe, Central America and parts of Asia.
Features:
18 or 15 UVC emitters
External UVC sensors
LED operations indicators
Stainless steel handles
Stainless steel protective cage
Emergency stop switch
Cord wrap
Door hanger warning signs
Treatment tracking tablet
Multi language user manual
Multi language quick start guide
Dual technology motion sensors
Remote control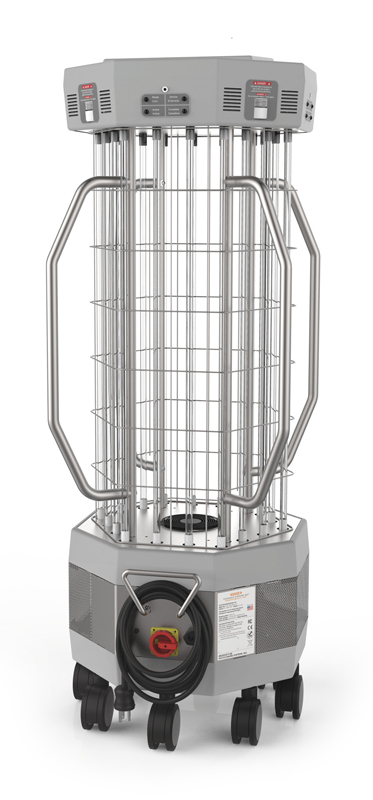 ---