Mobile UVC With Handcart, 1920 Watts with 15 UVC Emitters (Commercial Grade) 6-10 Week Lead Time
$29,950.00
---
Description:
The M20-HC / M15-HC are the ultimate in transportable UVC disinfection devices. 
LEASE OPTIONS AVAILABLE!!  CALL FOR PRICING!!
UVC Cleaning Systems has developed a truly superior line of UV disinfection devices for the environmental services professional.
This model is designed for the professional environmental service providers that require transportable equipment from facility to facility. The hand cart design makes it a one person job to move the unit from floor to floor (yes, even stairs), across parking lots, and through loading docks. Although built tough, the low weight and good balance make loading and unloading into a van or truck a one person task without ramps. All of the HC units can be transported in either a lying down or stand up positions.
Devices are made of sturdy, stainless steel frames with an impact thermal plastic and protective cage. UV emitters are Teflon encapsulated for when accidents occur, keeping glass and emitter contents contained.
Like all the UVC Cleaning Systems units, the M20-HC/M15-HC features an integrated wireless link for up to 8 units. The M20-HC and M15-HC automatically determines the correct UVC dosage for a given area by measuring the accumulated UVC, thus eliminating human error inherent to timer based systems. When using multiple linked devices all the units work together to determine appropriate end point. The UVC dose is not complete until all linked devices have met their end point. This eliminates the possibility of inadequate dosage.
Multiple dual motion sensing technology creates a safe operating environment by preventing accidental exposure to UVC radiation. UVC Cleaning Systems has engineered equipment that meets safety certifications for North America, Europe, Central America and parts of Asia.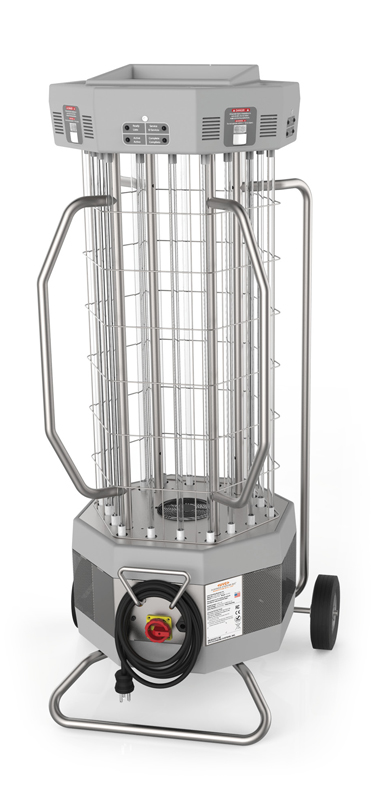 Features:
18 or 15 UVC emitters
Dual technology motion sensors
External UVC sensors
LED operations indicators
Stainless steel handles
Stainless steel protective cage
Emergency stop switch
Cord wrap
Door hanger warning signs
Treatment tracking tablet
Multi language quick start guide
Multi language user manual
Remote control
Specifications:
Height: 60 1/2" (153.7cm)
Depth: 27 1/2" (69.8 cm)
Width: 28 1/2 (73.4 cm)
Weight: 126 lbs (57.1kg)
Click on the below links for additional resources:
UVC Cleaning Systems M20 Antimicrobial Report
Introduction to Ultraviolet (UV) Room Disinfection Devices
Room Decontamination with UV Radiation
Role of hospital surfaces in the transmission of emerging health care- associated pathogens
The History of Ultraviolet Germicidal Irradiation for Air Disinfection
Biofilm Bacterial Community to UV Radiation
---