W15 Wall Mount Unit, 1300 Watts (6-10 Week Lead Time)
$29,950.00
In stock! Usually ships within 24 hours.
---
Description:
UVC Cleaning Systems wall units are shipped fully assembled and ready for installation.
LEASE OPTIONS AVAILABLE!!  CALL FOR PRICING!!
The W15 wall units are made of aluminum and impact resistant V0 flame rated thermal plastics with Teflon encapsulated emitters. Designed to plug into a standard power outlet.
A single W15 model is proven to treat a room 16 ft (5m) by 13 ft (4m) in 15 minutes and reduce the colonization of Staphylococcus Aureus to a log 4 in a single treatment (see test report for details). Larger rooms or multiple areas can be treated by wirelessly linking up to 8 devices. More than one W15 in a single room can produce a very short UVC treatment cycle by positioning the devices on parallel or adjacent walls depending on room shape.
All UVC Cleaning Systems products are labeled in regional languages and English. Each unit comes with one remote plus additional safety accessories including remote lanyard, door hanger warning signs, treatment tracking pads, product manuals, and quick start guides.
Features:
11 UVC emitters
Dual technology motion sensors
External UVC sensors
LED operations indicators
Stainless steel protective cage
Emergency stop switch
Door hanger warning signs
Treatment tracking tablet
Multi language quick start guide
Multi language user manual
Remote control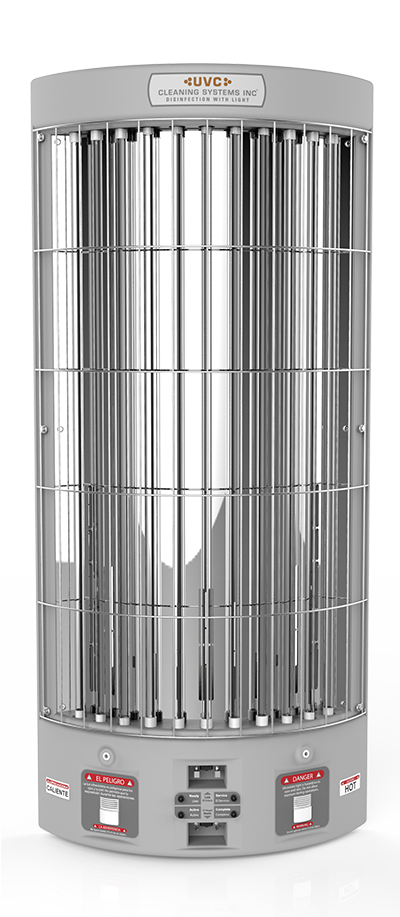 ---